Combos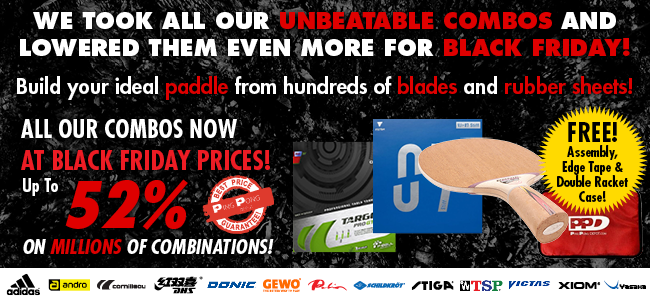 You can purchase personalized paddles directly on our website! Build your custom racket with your choice of blade, forehand rubber, and backhand rubber. We'll assemble your racket and finish it off with a nice edge tape for free. And then we'll toss in a racket case, also for free! Choose from among hundreds of blades and rubber sheets!

You can choose just about any blade in any handle (380 choices), just about any red rubber in any thickness (400 choices), and just about any black rubber in any thickness (400 choices)!

You can even mix brands!

In all there are over 60 million (380x400x400) different possibilities! Try them all today!
The savings are tremendous:

SAVE UP TO 33%
On millions of combinations!

Go take a look NOW!