French Version / Version Française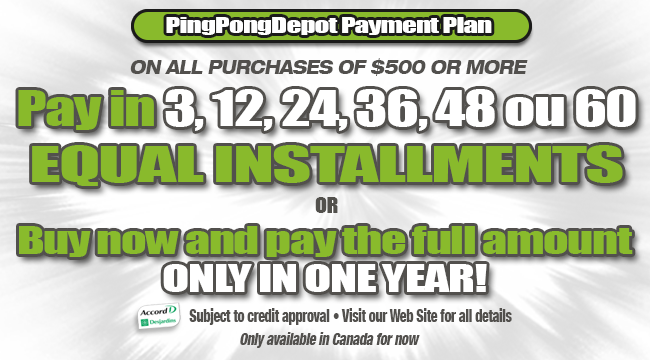 Buy now, pay later!

Don't wait any longer, get the equipment you need now with the new Ping Pong Depot Payment Plan.

Ping-Pong Depot continually strives to offer you the best services and buying options. With those objectives in mind, we present financing options of 3, 12, 24, 36, 48, or 60 months at equal installments, or one-time delayed payments.

Take advantage of these financing options by simply being a Visa Desjardins cardholder. If not already a cardholder, it takes only a few minutes to fill out a simple Accord D Desjardins financing application. For now, this option is only available in Canada.

Accord D financing solution is simple, swift, and flexible!

Benefits:
Flexible payments—pick your ideal term.

Competitive interest rates—get the best deal available.

No annual fee—don't pay unnecessary fees.

Possibility of advance payment at any time with no penalty—pay off your loan early to save interest.

Simple and swift access to financing—get the things you want today.
Examples of Accord D regular financing over 24 and 48 months:

| | | |
| --- | --- | --- |
| Amount | 24 Payments | 48 Payments |
| $500 | $23.89 | $13.54 |
| $999 | $47.73 | $27.05 |
| $1999 | $95.51 | $54.13 |

This offer caught your eye? Contact us for more details!

Ping-Pong Depot
Phone: 450-629-1688
Toll-free: 1-855-681-1688
Email: info@pingpongdepot.com
PLAN DE PAIEMENT PING-PONG DÉPÔT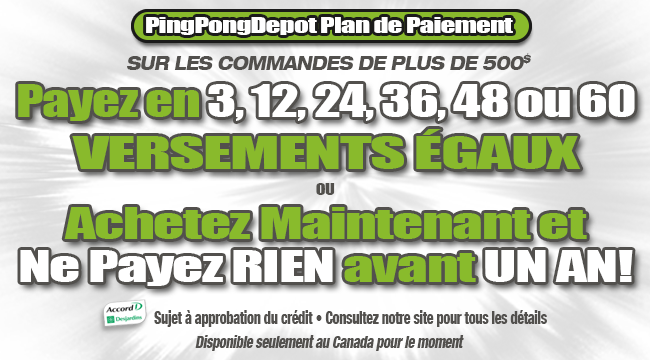 N'attendez plus, achetez l'équipement dont vous avez besoin avec le nouveau Plan de Paiement Ping-Pong Dépôt !

Chez Ping-Pong Dépôt, nous nous efforçons continuellement d'offrir les meilleurs services et les meilleures options d'achat à nos clients. Avec ces objectifs en tête, nous sommes ravis de vous présenter les options de financement de 3, 12, 24, 36, 48 ou 60 mois à versements égaux, ou paiements différés.

Pour en profiter, vous devez simplement être le titulaire d'une carte Visa Desjardins. Dans le cas contraire, il vous faudra juste quelques minutes pour remplir une simple demande de financement d'Accord D Desjardins. Pour le moment, les options de financement sont seulement disponibles au Canada.

Accord D est une solution de financement simple, rapide et flexible !

Avantages :
Paiements flexibles—choisissez le terme qui vous convient le mieux.
Taux d'intérêt très concurrentiel—obtenez le meilleur taux disponible.
Aucun frais annuel—pas besoin de payer des frais inutiles.
Possibilité de paiement anticipé en tout temps sans pénalité—remboursez votre prêt à l'avance pour économiser des frais d'intérêt.
Accès facile et rapide à du financement—obtenez ce que vous désirez aujourd'hui !
Exemples de financement régulier Accord D sur 24 et 48 mois :
| | | |
| --- | --- | --- |
| Montant | 24 Paiements | 48 Paiements |
| 500$ | 23.89$ | 13.54$ |
| 999$ | 47.73$ | 27.05$ |
| 1999$ | 95.51$ | 54.13$ |

Cette offre vous intéresse ? Contactez-nous afin d'obtenir plus de détails !

Ping-Pong Dépôt
Tél : 450-629-1688
Sans-frais : 1-855-681-1688
Courriel : info@pingpongdepot.com