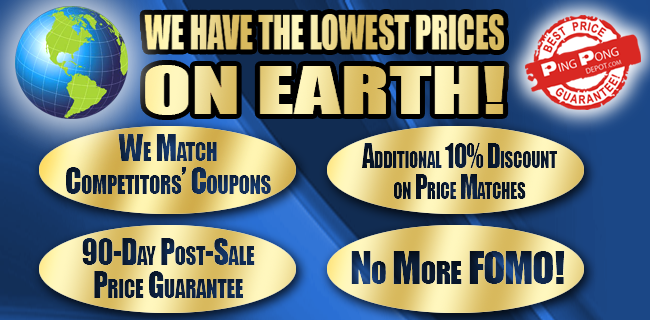 We have the LOWEST PRICES ON EARTH, guaranteed! We use price-tracking software to check our competitors' prices to be sure we have the best prices. We will match or beat any competitor's price, either regular or on sale. If, prior to your purchase, you find a lower regular price from anyone else online, we will not only match their price, but also take an ADDITIONAL 10% OFF the difference between the two prices!
Just send us a price match request, and we'll get back to you, pronto! Please note that shipping on tables is not covered by our best price guarantee. Items requested for a price match must be available and items must be identical to the competitor's product. We are confident to say that most of the time, you'll pay less for tables and all other equipment with us than anyone else; however, depending on your location, there may be exceptions.
In addition, PPD honors all coupons from competitors on merchandise that PPD also carries. We make it very simple for you to take advantage of this promise—just enter the competitor's coupon code into the coupon code field in your PPD shopping basket and click Apply. If we've already entered that coupon into our coupon management system, you'll get the same discount or offer as using that coupon on the competitor's website. If it's a coupon code we're not aware of, or is a coupon that our system can't handle for technical reasons, just call our toll-free number and our friendly staff will be glad to manually apply the same discount or offer to your order.
And have you ever suffered from FOMO (Fear Of Missing Out)? That hesitation to buy something you really wanted because you thought that maybe it would soon be on sale? Well, have no fear, PPD has the cure for FOMO! We guarantee our prices for 120 days after your purchase! If we or anyone else puts the item you purchased on sale, even up to 120 days after your purchase, we will refund you the difference. You don't need to wait for a special sale or price—simply buy when you're ready and no worries about FOMO!
We work very, very hard to make sure you feel like you made the right and best choice by doing business with
PPD
. We offer you the best products with the best advantages and at the best prices available
ANYWHERE
! We look for lower prices from our competitors and then meet or beat them. We match their coupons. We guarantee our prices to be the lowest for up to 120 days after purchase. We are committed to being the
LOW PRICE LEADER
for all your
table tennis
and
pickleball
gear.
If you find a lower price: Send Us A Price Match Request
Garantie des Meilleurs Prix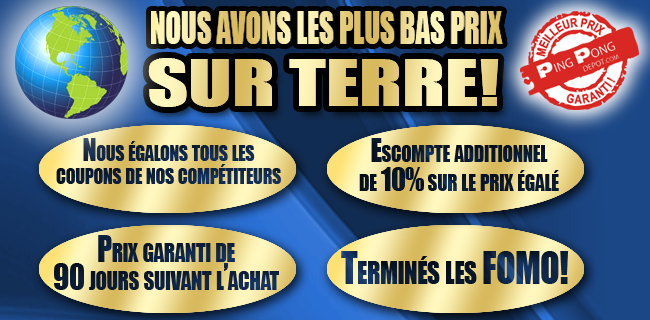 Nous avons LES PLUS BAS PRIX SUR TERRE, garantis! Nous utilisons un logiciel de suivi des prix pour vérifier les prix de nos concurrents afin de nous assurer que nous avons les meilleurs prix. Nous égalerons ou battrons le prix de n'importe quel concurrent, régulier ou en spécial. Si, avant de placer votre commande, vous trouvez un prix régulier plus bas chez un autre détaillant en ligne, non seulement nous égalerons leur prix, mais nous vous donnerons également un 10% ADDITIONNEL de la différence des deux prix !
Envoyez-nous simplement une demande de correspondance de prix, et nous vous répondrons, pronto ! Veuillez noter que l'expédition sur les tables n'est pas couverte par notre garantie de meilleur prix. Les articles demandés pour une correspondance de prix doivent être disponibles et les articles doivent être identiques au produit du concurrent. Nous sommes convaincus que la plupart du temps, vous paierez moins cher que n'importe qui d'autre pour les tables et tout autre équipement chez nous ; cependant, selon votre lieu de résidence, il peut y avoir des exceptions.
En outre, PPD honore tous les coupons des concurrents sur les produits que PPD vend également. Nous vous facilitons la tâche: vous n'avez qu'à entrer le code du concurrent dans le champ du code promo de votre panier PPD et cliquer sur Appliquer. Si nous avons déjà entré ce coupon dans notre système de gestion des coupons, vous obtiendrez le même rabais ou offre que l'utilisation de ce coupon entraînerait sur le site Web du concurrent. S'il s'agit d'un code promotionnel que nous ne connaissons pas ou d'un coupon que notre système ne peut pas gérer pour des raisons techniques, appelez notre numéro sans frais et notre personnel amical sera heureux d'appliquer manuellement le même rabais ou la même offre à votre commande.
Et avez-vous déjà souffert de FOMO (Peur de manquer quelque chose) ? Cette hésitation à acheter quelque chose que tu voulais vraiment parce que tu pensais que ce serait peut-être bientôt en spécial? Eh bien, n'ayez pas peur, PPD a le remède pour le FOMO ! Nous garantissons nos prix pendant 120 jours après votre achat ! Si nous ou quelqu'un d'autre mettons l'article que vous avez acheté en vente, même jusqu'à 120 jours après votre achat, nous vous rembourserons la différence. Vous n'avez pas besoin d'attendre une vente ou un prix spécial - achetez simplement quand vous êtes prêt et ne vous inquiétez plus du FOMO !
Nous travaillons très très fort pour nous assurer que vous avez fait le bon choix en faisant affaire avec PPD. Nous vous offrons les meilleurs produits avec les meilleurs avantages et aux meilleurs prix disponibles PARTOUT! Nous recherchons des prix plus bas auprès de nos concurrents, puis les égalons ou les battons. Nous égalons leurs coupons. Nous garantissons que nos prix sont les plus bas jusqu'à 120 jours après l'achat. Nous nous engageons à être le LEADER BAS PRIX pour tous vos équipements de tennis de table et de pickleball.
Si vous trouvez un prix inférieur: envoyez-nous une demande de correspondance de prix.