Sizzling Hot Summer Savings!


Yesterday was the official start of Summer, so it's also time for PPD to introduce our new seasonal special section—Summer Sizzlers. This section is chock full of hundreds of smoking hot deals in all your favorite categories and brands—over 1400 different SKUs! Discounts up to 64% and savings of up to $700. You'll be wiping the sweat off your brow as you search through the many terrific buys in this special section. Here's some quick links to the various categories and brands in this section:



And below is a small sampling of the red hot bargains found in Summer Sizzlers:



Enjoy your bargain hunting!


Every season we search through our inventory for items we need to clear out. We then drastically cut our prices on these items to clear them out (up to 85% and $130). Many of these items have been discontinued by the manufacturer or are simply items that we need to close out. So stock levels are typically quite low and once we sell out of an item in this section, that item is gone forever. So for the best selection, harvest a deal or two now when the pickings are ripe! Right now there are hundreds of products in this section from 15 different brands and over 300 SKUs. Because of the closeout nature of this section, no rain checks or backorders are possible. Enjoy your bargain hunting!


New Shipments Received!


Many new shipments have been received from several of our suppliers. If you've been waiting for an item to get re-stocked, now's the time to check again (or use our Back In Stock notifications). Our latest shipments include:
Newgy Last Chance Special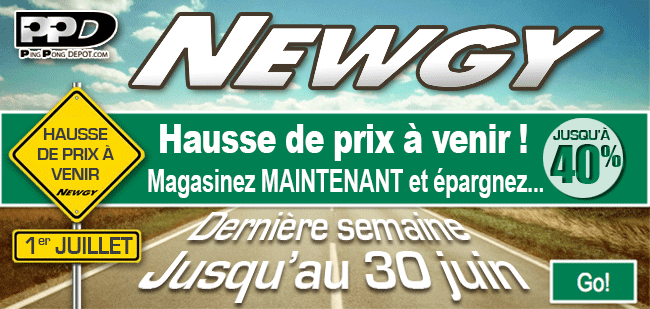 Newgy has announced a big price increase on all their robots, effective July 1st. This is your last chance to get a Newgy robot at the current special prices. If you've been considering the purchase of a robot, this is a great opportunity to avoid the price increase and save a bundle on any of the Newgy models listed below. This last chance opportunity ends June 30. Here are the new MSRP for the robots, along with the current special pricing that ends June 30:



Come July 1st, prices on these models will increase approximately 20%, costing you hundreds more if you wait too long. Newgy robots are a terrific investment in your game. They allow you to practice more often, more intensely, and improve more rapidly. They are renowned for their ease of use, reliability, and caring customer support. There is a Robo-Pong for everyone—from the beginner, recreational ping pong player to the advanced, competitive table tennis athlete, and everyone in between. Robo-Pong is one of the best home-use games for family fun and entertainment, as well as for fitness and intense training. Call us to find the one that's perfect for you.

And psst, here's an insider tip—Newgy also announced that it has discontinued the 2050+ and 1050+ models. But PPD has a few of each one of these left. These 2 models are priced $100 less than the similar models 2055 and 1055 listed above. The only difference between these models is that the + models have serial ports and the 55 models have USB ports. You only use these ports if you want to connect your robot to a Windows PC for designing custom drills. And even if you want to use this feature, and don't have a serial port, simply buy a Serial-To-USB Converter (usually $20 or less) and you'll be able to connect to any USB port.

Last chance to buy at the old prices—don't lose hundreds by waiting too long. Buy now before the price increase.



New Weekly Special: Xiom Omega VII Rubbers

The new Weekly Special is the Xiom Omega VII Rubbers. These are the newest inverted rubber sheets from Xiom and they are receiving rave reviews online. Omega VII rubber introduces several innovative technological advancements in both the sponge and topsheet. Its sponge is Xiom's signature black Carbo Sponge, which is tensorized (speed glue effect) and incorporates carbon composite into the cell structure of the sponge to transfer more energy to the ball at impact and reduce its weight. Xiom adopted snow tire technology for Omega VII's topsheet. Called Dynamic Friction, this allows the topsheet to better grip the more slippery surface of the poly ball and transfer more of the rubber's stored energy into rotational and forward motion of the ball. Together these technologies are referred to as Cycloid methodology, which creates a higher throw angle and more speed so the ball safely clears the net and lands deeper on the opponent's end, furthering the effectiveness of your shots.

Omega VII comes in two versions—Euro and Pro. Euro is the softer version with 40° sponge. Pro is harder with 47.5° sponge. Euro is more forgiving and is favored by all-round and control type players or players whose strokes are imprecise. Pro is better suited for higher level players with grooved strokes who want more speed on their shots. Both versions excel at producing heavy topspin, either with heavy contact (fast loop) or skimming contact (slow loop). Good for close-to-table attacks as well as mid-distance counter-loops. Short pushes, flips, blocks, and serve returns can be executed easily, with precise placement and control. Both versions are noted for their light weight so they are suitable for medium or even heavier weighted blades. These rubbers are responsive, spinny, fast, and controllable.

Save 33% as one of our Weekly Specials. Regularly $74.04 (US $56.95), now only $49.96 (US $38.43).
New Products
Donic has introduced a couple of new products. Their Ovtcharov Exclusive Carbon Blade is the newest and fastest addition to their Exclusive line of blades. The specially selected ply combinations of the Exclusive series provide these competition blades with increased control and smooth playing characteristics. The existing models were Applegren (ALL-), Waldner (ALL +), and Persson (OFF). The new Ovtcharov model adds 2 carbon layers, making it the first Exclusive blade with carbon and also making it slightly faster than the Persson. This blade series offers Donic's best values in competition quality blades.



And speaking of making things faster, Donic also just introduced a Turbo version of its extremely popular BlueStorm Z1 Rubber. This new rubber has a 50° sponge making it harder, and faster, than the regular Z1. Recommended for players with well formed strokes who are uncompromising attackers. This speed is dangerous—handle with care!

If speed's not your thing, then Stiga's got you covered with their new Flow 2-Player Set. Great for both indoor and outdoor play, these nearly indestructible paddles have excellent control and decent spin. The blade is made of polypropylene and glass fibre (no wood), and the surface is not a traditional competition surface. The handle is made of thermoplastic elastomers. They're durable, weatherproof, shock resistant, and long-lasting making them perfect for parks, schools, campgrounds, and institutions. Available in either lime green or black with white trimmings. Very distinctive. Set of 2 paddles.
New Shipments


Lot and lots of new shipments have been received from several of our suppliers. If you've been waiting for an item to get re-stocked, now's the time to check again (or use our Back In Stock notifications). Our latest shipments include:
Another PPD Advantage


PPD employs several experts in the field of table tennis who have dedicated their lives to the sport. We have current and former top players, coaches, promoters, and equipment specialists on staff, ready to share their expert insights into the equipment PPD sells. One of the ways you get to take advantage of this rich knowledge base is the accurate and useful product descriptions we provide on our website. Making the right choices depends on having the best information possible. But how do you get a full understanding when all you see are poorly written, almost unintelligible, translations from someone who doesn't speak English fluently?

All of us who have been in the sport for awhile are familiar with the almost indecipherable descriptions that are prevalent on the internet. Here's a beauty—distribute the smashing wave equally and accurately deliver the compacted wave to the ball to feel it attached to the blade in a moment—what does that mean??? Well, our experts will delve into the product to find out. And then we'll provide you with product descriptions that are clearly written to help you understand the advantages of that product. Of course, PPD carries thousands of products, so not all of the product descriptions have already been re-written. If you're still confused by a product description, just let our customer service know so we can prioritize it to get our expert evaluation treatment.

Why does PPD take the time to do this? Because we care about our customers and want to make your shopping at PPD as frictionless and rewarding as possible. Another advantage and reason to do all your table tennis shopping at Ping Pong Depot.

PPD Team continues to grow to serve you better! Welcome Étienne!

In the past year, we have doubled our staff to keep up with the rapid growth in our customers and sales. Since the beginning, we have always strived to offer the best products at the best prices, AND always with the best service. Our customer service manager, Angie, makes sure that all our customers get the most accurate information as quickly as possible. In order to continue to do that we were looking to add another table tennis expert, hopefully with the same passion as the rest of us, but maybe a little younger than some of us. In Etienne we found the ideal addition to our team. His experience, expertise, and love of table tennis will be obvious to you as well when you exchange e-mails with him, or talk with him on the phone. Along with Marc and Sandra, our excellent customer service team is here to serve you. Welcome aboard Étienne!

24 years old

I began playing table tennis when I was 12 at Club Tops in Repentigny. I was in an athletics-study program throughout high school with that same Club.

I continued in an athletics-study program in Cegep at Club Prestige.

Participated in numerous provincial tournaments, provincial and national championships, and tournaments in the USA.

Participated in different

programs

with the Table Tennis Federation of Quebec (TTFQ) as a player, training partner and coach.
Head coach at Club Tops since January 2017.

I have been playing in the Montreal league for the last 5 years.
Rabais Chauds et Brûlants cet Été !


Hier c'était le début officiel de l'été, il est donc temps pour PPD de présenter notre nouvelle section spéciale saisonnière - Rabais Brûlants de l'Été. Cette section regorge de centaines de bonnes affaires dans toutes vos catégories et marques préférées - plus de 1400 numéros de produits différents! Ils sont réduits jusqu'à 64% et économisez jusqu'à 700 $. Vous essuierez la sueur de votre front en cherchant parmi les nombreux achats formidables dans cette section spéciale. Voici quelques liens rapides vers les différentes catégories et marques de cette section:



Et ci-dessous est un petit échantillon des bonnes affaires rouges trouvées dans cette section:


Profitez de votre chasse aux bonnes affaires !


Chaque saison, nous recherchons dans notre inventaire les articles que nous devons liquider. Nous réduisons ensuite considérablement nos prix sur ces articles pour les éliminer (jusqu'à 85% et 130 $). Beaucoup de ces articles ont été discontinués par le fabricant ou sont simplement des articles que nous devons enlever de notre catalogue. Ainsi, les niveaux de stock sont généralement assez bas et une fois que nous vendons un article de cette section, cet article est parti pour toujours. Donc, pour la meilleure sélection possible, récolter une ou deux offres maintenant lorsque les fruits sont mûrs! À l'heure actuelle, il y a des centaines de produits dans cette section de 15 marques différentes et donc plus de 300 numéros différents. En raison de la nature de cette section, aucune commande en différé n'est possible (aucun « rain check » ou «back order ». Profitez de votre chasse aux bonnes affaires!


Nouvelles Livraisons Reçues


De nombreux nouveaux envois ont été reçus de plusieurs de nos fournisseurs. Si vous attendiez qu'un article soit réapprovisionné, il est temps de le vérifier à nouveau (ou d'utiliser nos notifications de retour en stock). Nos dernières expéditions incluent:
Newgy: Spécial de la dernière chance


Newgy a annoncé une forte augmentation de prix sur tous ses robots, à compter du 1er juillet. C'est votre dernière chance d'obtenir un robot Newgy aux prix spéciaux actuels. Si vous avez envisagé l'achat d'un robot, c'est une excellente occasion d'éviter la hausse des prix et d'économiser gros sur l'un des modèles Newgy énumérés ci-dessous. Cette dernière chance se termine le 30 juin. Voici le nouveau PDSF pour les robots, ainsi que les prix spéciaux actuels qui se terminent le 30 juin:



À compter du 1er juillet, les prix de ces modèles augmenteront d'environ 20%, ce qui vous coûtera des centaines de dollars de plus si vous attendez trop longtemps. Les robots Newgy représentent un investissement formidable pour votre jeu. Ils vous permettent de pratiquer plus souvent, plus intensément et de vous améliorer plus rapidement. Ils sont renommés pour leur facilité d'utilisation, leur fiabilité et leur service client attentionné. Il y a un Robo-Pong pour tout le monde - du débutant, joueur de ping-pong récréatif à l'athlète avancé et compétitif de tennis de table et tout le monde entre les deux. Robo-Pong est l'un des meilleurs loisirs à usage domestique pour le plaisir et le divertissement en famille, ainsi que pour le conditionnement physique et l'entraînement intense. Appelez-nous pour trouver le modèle qui est parfait pour vous.

Et psst, voici un conseil d'initié - Newgy a également annoncé qu'il a abandonné les modèles 2050+ et 1050+. Mais PPD en a encore quelques-uns de chacun d'eux. Ces 2 modèles sont vendus 100 $ de moins que les modèles similaires 2055 et 1055 énumérés ci-dessus. La seule différence entre ces modèles est que les modèles + ont des ports série et les 55 modèles ont des ports USB. Vous n'utilisez ces ports que si vous souhaitez connecter votre robot à un PC Windows pour concevoir des exercices personnalisés. Et même si vous voulez utiliser cette fonctionnalité et n'avez pas de port série, achetez simplement un convertisseur Serial-To-USB (généralement 20 $ ou moins) et vous pourrez vous connecter à n'importe quel port USB.

Dernière chance d'acheter à l'ancienne - ne perdez pas des centaines de dollars en attendant trop longtemps. Achetez maintenant avant l'augmentation de prix.




Nouveau spécial de la semaine: les revêments Xiom Omega VII Rubbers
Le nouveau spécial de la semaine est sur le nouveau caoutchouc Xiom Omega VII. Ce sont les derniers revêtements produits par Xiom et ils reçoivent des critiques élogieuses partout le web. Le caoutchouc Omega VII introduit plusieurs avancées technologiques innovantes dans la mousse et la feuille de caoutchouc. Son éponge est la mousse Carbo noire caractéristique de Xiom, qui est densifiée (effet de colle de vitesse) et incorpore du composite de carbone dans la structure cellulaire de l'éponge pour transférer plus d'énergie à la balle à l'impact et réduire son poids. Xiom a adopté la technologie des pneus à neige pour la feuille du dessus des Omega VII. Appelé Dynamic Friction, cela permet à la feuille de caoutchouc de mieux adhérer à la surface plus glissante de la balle poly et de transférer plus d'énergie stockée dans le caoutchouc dans le mouvement de rotation et d'avance de la balle. Ensemble, ces technologies sont appelées méthodologie cycloïde, ce qui crée un angle de projection plus élevé et plus de vitesse, de sorte que la balle dégage le filet en toute sécurité et atterrit plus profondément au fond de la demi-table de l'adversaire, améliorant ainsi l'efficacité de vos coups.

Omega VII existe en deux versions: Euro et Pro. L'Euro est la version plus molle avec une éponge de 40 °. Pro est la version la plus dure avec une éponge de 47,5 °. L'Euro est plus tolérant et donc adapté à tous les joueurs de type « all-round » et tout contrôle ou pour des joueurs dont les coups sont imprécis. Pro est mieux adapté pour les joueurs de niveau supérieur avec des coups avancés et donc qui veulent plus de vitesse. Les deux versions excellent pour produire un topspin lourd, soit avec un contact lourd (top spin rapide), soit avec un contact lisse (top spin lent). Bon pour les attaques proches du tableau ainsi que pour les contre tops à mi-distance. Les poussettes courtes, les flips, les blocs et les retours de service peuvent être exécutés facilement, avec un placement et un contrôle précis. Les deux versions sont remarquables pour leur légèreté, ce qui les rend particulièrement adaptées aux bois moyennement ou même très lourds. Ces caoutchoucs sont réactifs, légers, rapides et contrôlables.

Économisez 33% en tant que l'un de nos spéciaux hebdomadaires. Régulièrement 74,04 $, maintenant seulement 49,96 $.
Nouveaux produits
Donic a introduit quelques nouveaux produits. Leur bois Ovtcharov Carbon Exclusive est l'ajout le plus récent et le plus rapide à leur gamme exclusive de bois. Les combinaisons de plis spécialement sélectionnées de la série Exclusive confèrent à ces bois de compétition un contrôle accru et des meilleures caractéristiques de jeu. Les modèles existants étaient Applegren (ALL-), Waldner (ALL +) et Persson (OFF). Le nouveau modèle Ovtcharov ajoute 2 couches de carbone, ce qui en fait le premièr bois Exclusive avec du carbone et la rend également légèrement plus rapide que le Persson. Cette série de bois offre les meilleures valeurs de Donic en matière de bois de qualité compétition.



Et en parlant de rendre les choses plus rapides, Donic vient également de présenter une version Turbo de son très populaire BlueStorm Z1 Rubber. Ce nouveau caoutchouc a une éponge de 50 mm, ce qui le rend plus dur et plus rapide que le Z1 ordinaire. Recommandé pour les joueurs avec des coups techniques bien développés et qui sont des attaquants intransigeants. Cette vitesse est dangereuse, manipulez-la avec soin!

Si la vitesse n'est pas votre truc, alors Stiga vous a couvert avec son nouvel ensemble de jeu Flow pour 2 joueurs. Idéal pour les jeux intérieurs et extérieurs, ces raquettes presque indestructibles ont un excellent contrôle et une bonne rotation. Le corps de la raquette est fait de polypropylène et de fibre de verre (pas de bois), et la surface n'est pas une surface de compétition traditionnelle. La poignée est faite d'élastomères thermoplastiques. Ils sont durables, résistants aux intempéries, résistants aux chocs et durables. Disponible en vert vif ou noir avec des garnitures blanches. Très distinctif. Ensemble de 2 raquettes.
Nouvelles livraisons de produits


Beaucoup de nouveaux produits ont été reçus de plusieurs de nos fournisseurs. Si vous attendiez qu'un article soit réapprovisionné, il est temps de le vérifier à nouveau (ou d'utiliser les notifications par courriel « In Stock »). Nos derniers arrivages incluent:
Un autre avantage de PPD


PPD emploie plusieurs experts dans le domaine du tennis de table qui ont consacré leur vie à ce sport. Nous avons des joueurs, des entraîneurs, des promoteurs et des spécialistes de l'équipement, actuels et anciens, parmi nos employés, prêts à partager leurs connaissances spécialisées sur l'équipement vendu par PPD. L'une des façons de tirer parti de cette riche base de connaissances est la description précise et utile des produits que nous fournissons sur notre site Web. Faire les bons choix dépend de la meilleure information possible. Mais comment obtenez-vous une compréhension complète quand tout ce que vous voyez est mal écrit, presque inintelligible, des traductions de quelqu'un qui ne parle pas couramment l'anglais?

Tous ceux d'entre nous qui sont dans le sport depuis un certain temps sont familiers avec les descriptions presque indéchiffrables qui prévalent sur Internet. Voici une beauté:
« distribuez la vague qui smash de façon également et délivrez avec précision la vague compactée à la balle pour la sentir attachée au bois en un instant ». Qu'est-ce que cela signifie? Eh bien, nos experts vont plonger dans le produit pour le savoir. Ensuite, nous vous fournirons des descriptions de produits clairement rédigées pour vous aider à comprendre les avantages de ce produit. Bien sûr, PPD vous présente des milliers de produits sur son site, donc toutes les descriptions n'ont pas encore été réécrites. Si la description d'un produit vous laisse toujours perplexe, faites-le savoir à notre service à la clientèle pour que nous puissions le classer par ordre de priorité afin d'obtenir une révision de nos experts.

Pourquoi PPD prend-il le temps de le faire? Parce que nous nous soucions de nos clients et souhaitons que vos achats chez PPD soient aussi simples que possible. Un autre avantage et raison de faire tous vos achats de tennis de table chez Ping Pong Depot
L'équipe PPD continue de grandir pour mieux vous servir! Bienvenue Étienne!

Au cours de la dernière année, nous avons doublé notre effectif pour suivre la croissance rapide de nos clients et de nos ventes. Depuis le début, nous nous sommes toujours efforcés d'offrir les meilleurs produits aux meilleurs prix, ET toujours avec le meilleur service. Notre responsable du service client, Angie, s'assure que tous nos clients obtiennent les informations les plus précises le plus rapidement possible. Afin de continuer à faire cela, nous cherchions à ajouter un autre expert en tennis de table, avec la même passion que nous, espérons-le, mais peut-être un peu plus jeune que certains d'entre nous. Chez Étienne, nous avons trouvé l'addition idéale à notre équipe. Son expérience, son savoir-faire et son amour pour le tennis de table vous seront également familiers lorsque vous échangerez des courriels avec lui ou que vous lui parlerez au téléphone. Avec Marc et Sandra, notre excellente équipe de service à la clientèle est là pour vous servir. Bienvenue à bord d'Étienne!

24 ans
J'ai commencé à jouer au tennis de table à l'âge de 12 ans au club Tops de Repentigny. J'ai fait mon secondaire en programme sport-étude dans ce même club.
J'ai continué le sport-étude au niveau collégial au club Prestige.
Participation à de nombreux tournois provinciaux, championnats provinciaux et nationaux et des tournois aux États-Unis.
Participation aux différents programmes de la FTTQ comme joueur, partenaire d'entraînement et entraîneur.
Entraîneur-chef du club Tops depuis janvier 2017.
Je joue la ligue de Montréal depuis 5 ans.