NEWS FROM OTHERS - A great champion retires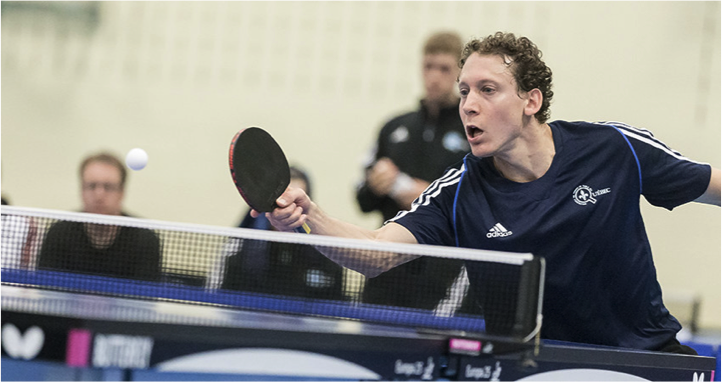 Here is a nice article summing up the career of a great champion and role model: Xavier Therien. He retired earlier this year after a career of over 30 years, which included winning the North American's Men's Singles. The article was written in French by Marie-Claude Lamy of the Quebec Table Tennis Federation. It looks back at an eventful career marked by passion of an athlete for his sport! In addition to being a devoted athlete for the past 30 years, Xavier has a successful career at IBM and is a doting Dad of 4. Our best wishes for a great future to one of the great players in the history of Quebec.
------------------------
Nous apprenions au début de l'année, après une carrière de plus de 30 ans, la fin de la carrière sportive d'un des grands joueurs de l'histoire du Québec : Xavier Thérien! Retour sur une carrière bien remplie marquée par la passion d'un athlète pour son sport!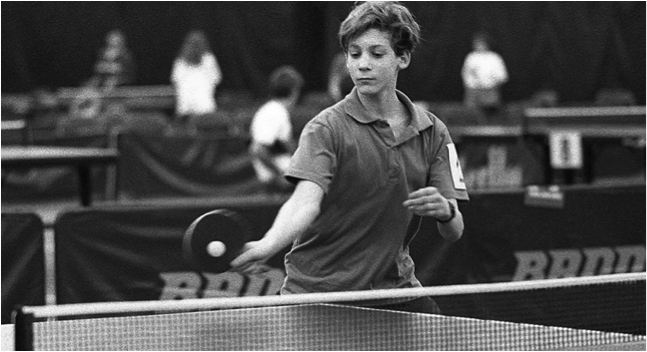 Originaire des Cantons-de-l'Est, Xavier Thérien a fait ses débuts en tennis de table à l'âge de 6 dans le petit club d'Ascot Corner, près de Sherbrooke. Membre de l'Équipe du Québec à 10 ans, il remporta ses premiers Jeux du Québec à Shawinigan dans la catégorie 10 ans et moins. La même année, il participa à son premier Championnat canadien! Pratiquant de temps en temps à Sherbrooke et Fleurimont, il s'est entrainé au club d'Ascot Corner jusqu'à son départ pour le Centre national d'Ottawa à l'âge de 16 ans, invité par l'entraineur national, Michel Gadal. Ce déménagement aura été très bénéfique puisque Xavier gagna les titres de Champion canadien junior en simple, en double et en double mixte l'année suivante! La triple couronne pour ce pongiste d'exception!
En 1996, accompagné de ses trois amis pongistes, Jean-Baptiste Bertrand, Jean-Philippe Gagnon et Steven Samson, Xavier s'envola pour la France afin d'aller s'entrainer pendant 1 an au Club de Fontenay-sous-Bois, près de Paris. Il qualifie d'ailleurs ce voyage comme une grande expérience de vie. À son retour, il poursuivit ses études en informatique à l'Université d'Ottawa, pour ensuite commencer sa carrière professionnelle comme ingénieur logiciel chez IBM… et devenir papa à 4 reprises!
C'est en 2009 que sa carrière de tennis de table a atteint son sommet lorsqu'il fut couronné Champion de l'Amérique du Nord en simple. Cette victoire lui permit alors de se qualifier pour la Coupe du Monde à Moscou, où seulement 19 joueurs au monde étaient invités. Il fut honoré de participer à cet événement d'envergure aussi prestigieux.
Ayant eu la chance de voyager aux quatre coins de la planète (Afrique, Asie, Europe, Amériques) et de participer à plusieurs Jeux et compétitions internationales, il demeura actif sur l'Équipe nationale jusqu'à l'été 2015, soit jusqu'au déménagement du Centre national à Toronto. Avec l'entrainement, les compétitions et les voyages, jumelés à un travail à temps plein et 4 enfants, les sacrifices familiaux étaient de plus en plus difficiles à faire. C'est donc naturellement que l'appel de la retraite s'est fait entendre! Xavier admet être tout simplement rendu au point de passer à une autre étape de sa vie et c'est, dans un certain sens, un soulagement pour lui. Il avoue ne pas savoir comment il est arrivé à garder ce rythme de vie aussi longtemps!
Même s'il n'a pas l'impression d'avoir vraiment plus de « temps libre » qu'avant, ce sera tout nouveau pour lui de prendre des vacances prochainement! Comme ses semaines de vacances étaient consacrées aux compétitions et voyages, il en profitera désormais pour faire des voyages… en famille!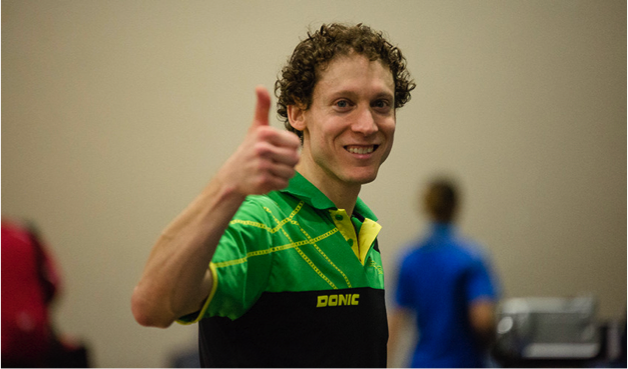 Une carrière sportive aussi accomplie signifie plusieurs compétitions marquantes et titres importants. En voici d'ailleurs un résumé :
Compétitions:
- Jeux de la Francophonie (Niger, 2005)
- Coupe du Monde en Simple (Moscou, 2009)
- Jeux du Commonwealth (Delhi, 2010)
- Coupe du Monde en Équipe (Linz, 2009, Dubai 2010)
- Championnat du Monde par Équipe (Tokyo, 2014)
Titres :
- Champion canadien junior simple, double, double-mixte; 1995
- Champion nord-américain en double et en simple; 2005, 2009
- 4 fois champion canadien en double; 2002, 2008, 2009, 2012
- 2 fois champion canadien en équipe; 2008, 2015
- 11 fois champion québécois en simple.
Afin de souligner tout son apport au tennis de table québécois, la Fédération a offert à Xavier Thérien une plaque souvenir où nous pouvons y lire :
La Fédération de tennis de table du Québec est fière de souligner la retraite sportive d'un des plus grands pongistes de l'histoire du tennis de table au Québec. Avec une carrière de plus de 30 ans, dans laquelle il a remporté plusieurs titres nationaux et provinciaux, dont 11 fois le titre de Champion Québécois en simple, Xavier Thérien a su nous démontrer son talent, son assiduité et tout l'amour qu'il porte à son sport. Félicitations pour ton parcours exceptionnel.
Nous souhaitons donc beaucoup de succès à Xavier pour tous ses futurs projets à venir, tant du côté professionnel que familial! Merci Xavier!
Suivez les nouvelles du tennis de table au Québec grâce aux articles rédigés par Marie-Claude Lamy, adjointe aux communications au sein de la Fédération.
Here another press article written in French on the same subject : http://www.lapresse.ca/le-droit/sports/autres-sports/201605/11/01-4980712-therien-remise-sa-raquette-de-ping-pong.php