Holiday Specials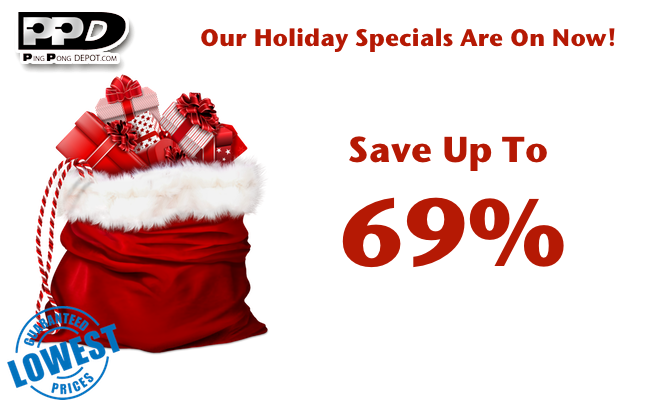 Limited Quantities

First Come First Served
From All Categories
From All Brands
The More You Buy, The Bigger Your Gift!
To celebrate these festive holidays, Ping Pong Depot is offering a free gift with purchases from now until Dec. 22. And the more you buy, the bigger your gift! Starting with a total purchase value of only $99, PPD will provide a FREE gift our special certificate of $10 to $600. Get shopping and claim your gift today!
Just place your order and indicate your choice in the comments section, or when you call in to place your order, just tell us which you prefer.
Gift certificates are always a well-received gift. What's more fun than going on a spending spree when you don't have to pay for it! Recipients are free to pick out exactly what they want. And you, the gift-giver, don't have to worry about giving them something they don't want. And of course, gift certificates avoid all the hassle of having to return unwanted gifts. Do yourself and your loved ones a favor this Christmas—give a gift certificate!

PPD has many items on special just in time for the holidays. For a really special gift, get a ping pong table for your family. More table tennis tables are sold during the Christmas holiday season than are sold throughout the rest of the year. They make great gifts and are sure to provide hours and hours of fun for your kids and the rest of your family and friends. Already have a table? Then what about a table tennis robot? They're the perfect complement to a table and let you or your kids play anytime they want, even if nobody else wants to play. Besides tables and robots, PPD also offers specials on just about anything else you need including balls, rackets, rubber, blades, clothing, accessories, and combos! Here's some great gift ideas from among our large selection:

Don't miss out! Hurry and Save Now on our Gift Suggestions.


This is a magical time of the year and is the time to acknowledge your friendships and relationships by giving them a gift to show appreciation of their importance to you. See all our gift suggestions, in all price ranges, in our new special gift section. We're sure you will find the perfect gift for that special someone. Our combos, from $109.99 to $399.99, are a great way to get a fantastic, customized racket at tremendous savings. We have hundreds of products on Holiday Sale, from all categories, and from all brands. Combine them with our Holiday Promotion, and you'll get the best deal of the year. If you're still not sure what to get, our gift certificates and gift cards, available in any amount, make the ideal, can't go wrong gift. If you need any advice or help, our staff is here to help you by email (info@pingpongdepot.com) or phone (450-629-1688 or toll-free: 1-855-681-7464). Get your order in now to ensure you receive it before Christmas. We have the best prices and match everyone's specials, so you know when you get your stuff from Ping Pong Depot, you will be getting the best price possible — we guarantee it!

Shop By Brand
Shop By Category
Accessories, Bags, Balls, Blades, Clothing, Mini-Tables, Pickleball, Racket Cases, Racket Sets, Rackets, Robots, Shoes, Shoes, Towels and Tracksuits


We have combos, from $109.99 to $399.99





Spéciaux des fêtes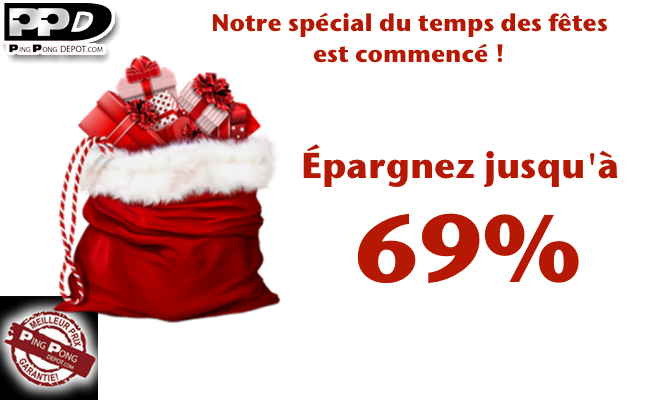 Quantité limitée
Premier arrivé, premier servi

Magasinez par catégorie
Magasinez par marques
Plus vous achetez, plus votre cadeau sera gros !


Pour célébrer les fêtes de fin d'année, Ping Pong Depot vous offre un cadeau gratuit avec vos achats d'ici le 22 décembre. Plus vous achetez, plus votre cadeau est gros! À partir d'une valeur d'achat totale de seulement 99 $, PPD vous donnera un certificat-cadeau GRATUIT de 10 $ à 600 $. Magasinez et réclamer votre cadeau dès aujourd'hui!
Il suffit de passer votre commande et dans la section des commentaires indiquez votre choix, ou lorsque vous appelez pour passer votre commande, dites-nous simplement ce que vous préférez.

Les certificats-cadeaux sont toujours un cadeau bien reçu. Quoi de plus amusant que de faire une frénésie de dépenses quand vous n'avez pas à payer pour cela! Les destinataires sont libres de choisir exactement ce qu'ils veulent. Et vous, le donateur, n'avez pas à vous soucier de leur donner quelque chose qu'ils ne veulent pas. Et bien sûr, les certificats-cadeaux évitent tous les tracas d'avoir à retourner des cadeaux non désirés. Faites-vous plaisir à vous-même et à vos proches ce Noël - offrez un certificat-cadeau!

PPD a beaucoup d'articles en spécial juste à temps pour les fêtes. Pour un cadeau vraiment spécial, obtenez une table de ping-pong pour votre famille. Plus de tables de tennis de table sont vendues pendant la période des fêtes de fin d'année que pendant tout le reste de l'année. Elles font de grands cadeaux et sont certaines de fournir des heures et des heures de plaisir pour vos enfants et le reste de votre famille ainsi que vos amis. Vous avez déjà une table? Alors qu'en est-il d'un robot de tennis de table? Ils sont le complément parfait d'une table et permettent à vous et à vos enfants de jouer quand ils le veulent, même si personne d'autre ne peut jouer. En plus des tables et des robots, PPD propose également des promotions sur tout ce dont vous avez besoin, y compris des balles, des raquettes, des revêtements, des bois, des vêtements, des accessoires et des combos! Voici quelques bonnes idées de cadeau parmi notre grande sélection:

Ne manquez pas ça ! Dépêchez-vous et économisez maintenant sur nos suggestions de cadeaux.


C'est un moment magique de l'année et c'est justement le moment de souligner vos amitiés et vos relations en donnant un cadeau afin de démontrer à vos amis l'importance qu'ils ont pour vous. Regardez ci-dessous pour nos suggestions de cadeaux dans toutes les gammes de prix. Voir toutes nos suggestions de cadeaux dans notre nouvelle section spéciaux des fêtes. Nous sommes sûrs que vous trouverez le cadeau parfait pour quelqu'un de spécial. Nos combos, de 109.99 $ à 399.99 $, sont aussi un excellent moyen d'obtenir une raquette fantastique en plus de faire d'énormes économies. Nous avons des centaines de produits en spécial pour le temps des fêtes, dans plein de catégories et dans toutes les marques et en les combinant avec notre Promotion des Fêtes, vous obtiendrez la meilleure affaire de l'année. Si vous ne savez toujours pas quoi acheter, nos certificats cadeaux disponibles en n'importe quel montant sont un cadeau idéal avec lequel on ne peut pas se tromper. Si vous avez besoin de conseils ou d'aide, notre personnel est là pour vous aider par courriel à info@pingpongdepot.com ou par téléphone au 450-629-1688 ou sans frais: 1-855-681-7464. Faites votre commande maintenant pour vous assurer de le recevoir avant Noël. Nous avons les meilleurs prix et nous vous proposons des offres spéciales pour tout le monde, donc vous savez que lorsque vous faites affaire chez Ping Pong Dépot, vous obtenez le meilleur prix possible - nous le garantissons!

Magasinez par catégorie
Accessoires, Sacs, Balles, Bois, Vêtement, Mini-Tables, Pickleball, Étuis de raquette, Ensemble de raquettes, Raquettes, Robots, Souliers, Serviettes et Survêtements
Quelques suggestions de cadeaux


Magasinez par prix
Balles Schildkröt 3* 40+ Super Blanche (3)
$6.48
Revêtement Palio CJ8000 BioTech
$19.29
Raquette Stiga Charger (FL)
$24.98

Étui Butterfly Logo
$25.79
Chemise Gewo Nova
$29.98
Compteur TSP Mini Point
$39.98
Revêtement Xiom Omega V Europe
$69.98
Survêtement Gewo Storm
$89.98

Souliers Donic Sprint
$92.82

Raquette Donic-Schildkröt Carbotec 7000 FL
$159.98
Raquette Onix Graphite Sub-Zero
$159.98
Bois andro Ligna OFF+
$199.98

Mini Table Cornilleau Hobby Bleu (Canada seulement)
$249.98
Balles Donic 40+ Poly 3* blanche (120)
$249.98

Balles Onix Pure 2 intérieur (100)
$349.98

Newgy Robo-Pong 540+ (Canada seulement)
$499.98


Table Double Queen Grand Choice 18mm, shipping et filet gratuit (Canada seulement)
$649.98
able Double Queen Finest Selection 25mm, Free Shipping et filet gratuit (Canada seulement)
$799.98
Newgy Robo-Pong 2050+ (Canada seulement)
$1,149.98

Table Cornilleau Performance 500 Indoor Bleu
$1,399.98 US$1,168.06
Table Cornilleau Performance 500M Crossover
$1,899.98 US$1,625.15

Nous avons des combos de 109.99 $ à 399.99 $